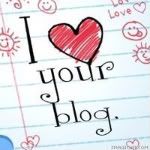 I am very excited. I don't think anyone even reads my blog besides her and Aubrey though, lol. Anyway I am supposed to give an award to 7 people who's blogs inspire me, however i don't read that many blogs yet, lol so here are my top 3 blogs I read on a daily basis:
Chelle at Two for the Road
Melissa at Bella Mae
Aubrey at Aubrey's Tattered pages
Ok ladies now it's your turn go HERE to get your award & add it to your page linking back to who gave it to you (Which would be me in this case).
Now it's your turn to show which blogs you love & award 7 blogs with this award linking to them as well. Oh & don't forget to tell them that you are giving them the award in there comments! Please enjoy your award you deserve it!